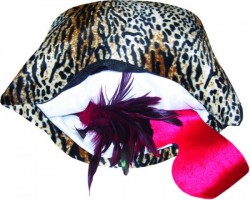 So you have found the perfect vibrator or other fun sex toy you love…but you have kids, parents, siblings or other visitors you don't want to know about the kinky, sexy side of you.  Maybe you just don't want your cat snuggling into your vibrator (you laugh, but I have had it happen! and no, I don't have video! lol)
Besides the standard bedside table or dresser drawer you can stash your sex toys in, what can you do to make sure no snooping eyes discover your toys?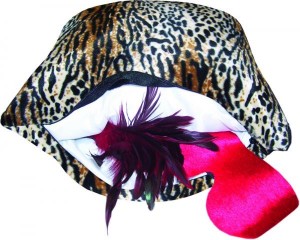 Socks can hide small toys like bullet vibes and who pulls socks out of your drawer? Just roll one up like usual, stash your sex toy inside and put it in the pile of socks. This can also be a great place to store the remote for your favorite vibrating panty so you don't lose it (yes, it has happened more than once to me!)
Hide Your Vibe Pillows are a great way to stash one or a few toys and they come in several sizes, colors and fun prints. You can easily toss this pillow on your bed amongst all the others and few would give it a second look or suspect what was inside.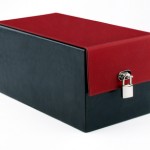 Have a few toys to hide? A shoe box can do the job – especially if on a shelf with several other shoe boxes looking totally innocent. Though just be sure you don't send your kids to get one for that school project they need to build! Or use a stylish Divine Toys Stash Box which is about the size of a shoe box but locks and comes in some fun styles – I love their pink corset box!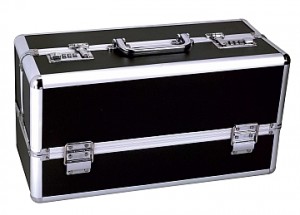 Need more security or have a bigger selection of sex toys? A locking sex toy case is the perfect solution for you. Great to keep your kids out of your kinky toys, it can also keep your submissive from playing when you aren't home too (and having them pull out "the case" can be great to build anticipation!).
Under the bed storage boxes are a great solution if you don't have kids and just want to keep things handy, but out of site. Most home improvement stores have a selection of sizes and colors – some with wheels for easy sliding out when you want to play. Put pretty bed skirt on your bed and only the snoopiest of snoops would find them.
You can also use an ottoman with storage, decorative chest or foot locker for those harder to hide toys – get one that is lockable and someone might wonder what you are hiding, but just let them wonder!  Or cover it with a cloth or throw and make it do double duty!
Keep those sex toys out of sight, but right at hand when you want them with one of these creative storage solutions. Have another great hiding spot? Share your favorite place to hide your stash in the comments below!