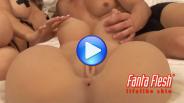 This amazing masturbator is really part sex doll, part masturbator with it's FantaFlesh super life like material that hugs and massages your cock just right!  An investment toy by Pipedream Products that will last you a lifetime of fun with or without a partner!
Click on the > Play button below to view this amazing sex toy in action!
Find out more about the Fuck Me Silly 2 Mega Masturbator on our sex toy shop and get yours today!